Moving Breath Pilates Instructors
Pilates...a wiser way to exercise.
Katharine Powell
Certified Senior Instructor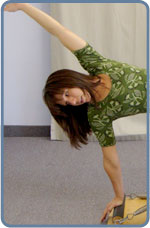 Katharine Powell, certified by Core Dynamics Pilates, and mentored by Virginia Nicholas, has worked at Moving Breath Pilates since August 2007. In addition to having her Pilates certification, Katharine is a licensed massage therapist. She owns and operates Toltec Wellness Center in Eloy, Arizona.
Katharine teaches Anatomy for Pilates Core Integration Teacher Training Program. The Anatomy in Clay program offers hands-on instruction with mannequins. Katharine is on the faculty of Pilates Core Integration (Anatomy instructor), Moving Breath Pilates (Pilates instructor), and offers massage through Moving Breath Pilates Studio. Katharine is an avid skydiver and hiker.
Instructor Bios