Moving Breath Pilates Studio Info
Create a life of balance.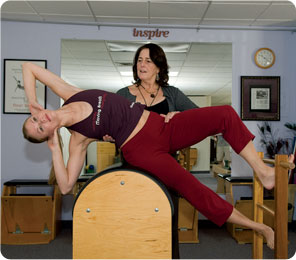 Moving Breath Pilates is a peaceful, positive, pleasant place...
Located in Tempe, Arizona, Moving Breath Pilates is a studio devoted to the art of health, education, and movement. We offer private and small group classes, allowing you the opportunity to conveniently handcraft your movement experiences. We bring together mind, body and spirit for a complete work-out that leaves you refreshed and invigorated.
Moving Breath Pilates teaches Pilates and the GYROTONIC® method as well as exercise rehabilitation. Whether you are an elite athlete, an intelligent exerciser, a weekend warrior, or recovering from injury, illness, or surgery, Moving Breath Pilates is ready to assist you on your journey or health and fitness.
We teach all 55-minute duet, trio, quartet, and group class Pilates sessions on the Pilates Universal Reformer, Wunda Chair, Spine Corrector, and/or Mat depending on the goals of the clients and instructor. Private sessions (55 minutes in length) also enjoy the opportunity to work on the Trapeze Table, Ladder Barrel, and Gyrotonic® Pulley Tower unit. Classes require advance reservation.